So two weeks ago was the very first time in Manchester for Pride. A bunch of my colleagues and I went up on Friday to work there for the extended weekend to promote Stonewall's new solidarity campaign #ByYourSide. Manchester Pride has the reputation to be the wildest and most intense Pride in the UK – and after this weekend I have to say, I agree.
Manchester Pride feels massive. Even though I am sure if we compare numbers it is not necessarily bigger than any of the other prides that I have attended. Most events happen in the Gay Village which is located alongside Canal Street. Following the trend, the parade is free of charge but you will have to pay to get into the streets which are guarded by temporary gates and security people. Well, I have to admit, I have my concerns about commercialised Prides but maybe that is a topic for another post.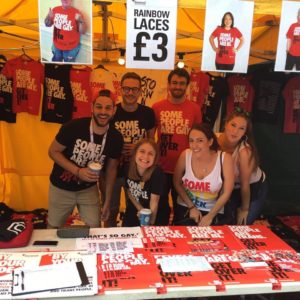 The substantial yet limited space surrounding the three stages fills quickly with people. This can be fun if you love crowds, I reached my limits Sunday evening at the main stage when they closed the entrance because it was overcrowded (Oh heya anxiety, you here as well…). Thankfully I had access to the VIP area and could enjoy the rest of the evening from there – I'm not the biggest fan of VIP areas, particularly because of the name, but trust me that evening I was more than grateful for its existence. Even though it was later also closed because of overcrowding, which leaves definitely room for improvement.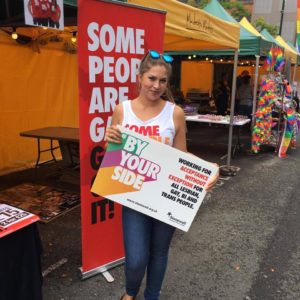 My personal highlight – besides that delicious frozen Pimm's drink that I found – was the parade. In Manchester you need to be part of a group and registered to be able to join the parade – in contrary to e.g. Berlin or Brussels – and it was my first time marching as a registered participant. The crowd on the sidewalks were amazing and the route well-chosen, short but sweet.
All in all, despite mostly working, I had a fantastic time in Manchester. It won't make it on my top three pride ranking but it definitely was an experience. If you can't get enough of mega pop parties – Manchester Pride will be your thing.