Berlin Pride was – as always – a true delight.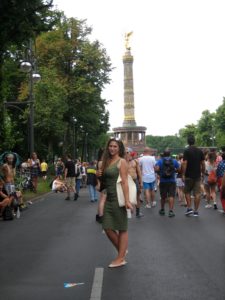 Berlin Pride is one of the traditions that are an absolute priority – unfortunately, normally Berlin Pride clashes with London Pride and therefore I had to miss London Pride more often than not. But this year, thankfully to some form of heteronormative hegemonic manifestation that I normally would oppose, Berlin Pride was postponed by a month. Berlin Pride means to me: family, friends and the very beginning of my journey to finding my sexual and romantic self. But it is also a place where I am reminded what I have been through and where I come from (yes, getting deep).
Every year we start Berlin Pride with a brunch at my mother's place. This year I was lucky and my dearest and queerest high school friends where able to make it. The tradition of Berlin Pride wins more on importance the older I get – it is to me one of the few occasions where I can reconnect with my friends in Berlin, the ones that know since I was a rebellious teenager.
Once the brunch commenced – of course heavily laced with Champagne and Prosecco – the giltterazzi began, a ceremony which is led by my mother – partly because she complains that we will spread out the glitter everywhere in her flat and as we know it is impossible to remove gli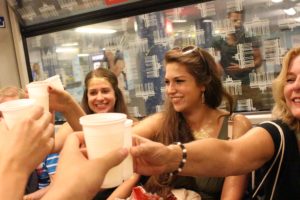 tter – as in ever- and can be summarised with the motto more is more is…well…more. It is a process where you can earn prestige by sticking as much glitter particles as possible to your sweat-sticky body, so pretty much fun times.
Then of we went to Ku'damm where the Pride begins. Well-equipped with more Prosecco and glitter – as well as cake to share with the world – we just had to wait till a truck was appealing enough to get us in our dancing mood and off we went. One thing I love about Berlin Pride is that it's very participatory, a bit like a queer love parade meets Folsom Street Fair. If you belong to the faint-hearted, think twice before coming, it is very likely that you'll see all forms of flamboyantness, kinksters, queer diva queens and semi-nudist – actually ignore the 'semi'.
This year I took it easy and just enjoyed the day time party parade and happy charming mini-flirtaciousness but if you are more into hardcore raving you can definitely explore your limits with a city that provides 24h partying. So come and join me: Berlin's calling.