Many people might raise their eyebrows over my choice of pride season opening. Brussels seems to be still astonishingly underrated. Yet there is so much deliciousness hidden there: from the best chocolatiers in the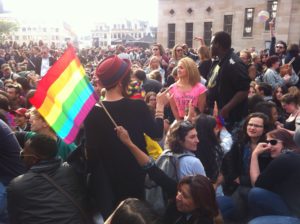 world and caramelised waffles, to a very welcoming landscape of cuisines. The gay scene is admittedly small but has certainly a cosy community feel to it.
This year's Pride was far from my first one there: when I turned 20 I lived in Brussels for a few months before I headed to London. After leaving, I made an effort to come back for pride every year…then life kicked in and I didn't manage to go back for a while. Now one of my good friends just got a baby, so I thought it would be the perfect opportunity to go down.
Of course, as it is so often in life, the moment I left my desk at work to catch the Eurostar I had the worst cold this year. I was so ill that the only responsible thing was to stay at home. So of course I did everything but that and grabbed my over-sized suitcase and made my way to Kings Cross, because sometimes you have to be unreasonable.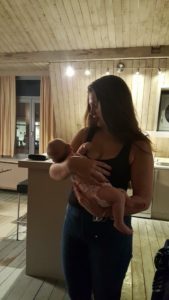 It was an absolute pleasure to see my friends again and it was just like back in the days, well with the difference that this time the little one was consuming all attention.
Brussels Pride is not the biggest but I really like it and it is slowly spreading out. Whereas before it only took place around the Kolenmarkt, the gay village of Brussels, it now also had a pride village at the Monts des arts, which is one beautiful location to have a pride. We spent most of the day at the Velvet 69 stage which normally hosts  lesbian parties.
I always feel that Brussels still has more of a community feel to it, but it might be well because I romanticise it as a place where I went when I just started to explore the fantastic queer world. Normally during pride there are a tone of big parties around, so it does have the potential for a party pride weekend away, but I also think it could be a nice get away with your partner, if you prefer to have more of a low key pride and actually just want to enjoy good food and drinks (and as much chocolate as you can dream of).
For me it was this time, low key, surviving my cold, catching up with friends and getting all broody over the new-born (as you can witness here), but I can tell you from my past experience a turned up weekend is definitely possible.