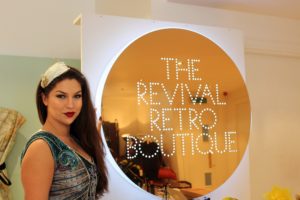 I do believe in supporting small business, marginalised power people AND letting people now about it, so let me share with you this little gem. There is no secret about it: Revival Retro is one of my favorite stores in London and I have been a loyal customer for ages. I found it at a crisis point a few years back, where I foolishly believed a red dress might save my relationship (got proven otherwise pretty much the next day but I did look on point) and stayed put ever since.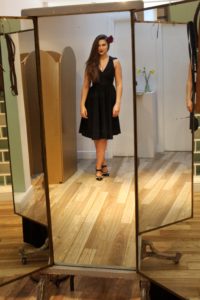 I love vintage and retro places. I sense always a certain flirtatious and seductive flare. It is that embracing of femininity in all its facets, shapes and sizes. Paradoxically the attire that used to be the epitome of patriarchal supremacy has now a hint of feminist empowerment to it – or even queering the paradigm. Now revival is as good as it gets – an aesthetically pleasing ambiance, clothes that make you feel like a delicious praline (as my papa used to say) and staff who will uplift your mood and give you a confidence boost for the rest of the week.
Not only do they sell one of my favorite brands Stop Staring but also constantly get new things so that I try not to go too often cause my bank account ain't happy with me – saying that I just grabbed a new bag this week, simply the cutest.
Most of the dresses do have a substantial price tag on them, but in my experience are worth it. The red dress I bought 4 years ago, shows still no wear and tear and I have put it through multiple pride season tests. There are some dresses, shoes and accessories at a lower price point and of course the sales come around every year – but overall it is a place for quality over quantity.
I love the ladies that work there and that it is a completely body positive and queer friendly environment. I just had a sneak peak on their winter collection that will come in and it is everything you could wish for, for a glammed up festive season.
If you are in London check them out.